QR Master and Face Master have been combined into one App known as QF Master. This QF Master can be activated one or both in a single smartphone mounted at the access points. Similar to QR Master, but different in credential and user, Face Master is a great addition for i-Neighbour Smart Community whereby it is using face recognition technology to enhance access control for residents. Residents will need to register their faces into the i-Neighbour system for them to be using Face Master to access doors, lifts, turnstiles and etc.
QF Master is an access control reader in a form of a mobile app in Android smartphone, where each Face Master is a unique access point that controls the IN and OUT activities of each door when paired with a TimeTec BLE-2 via bluetooth connection. Face Master is the Android smart device, which designed to authenticate the person's face to justify the person's access permission. The face recognition algorithm can cater up to 30,000 face templates with 1:1 verification and stored up to 1,000,000 transaction data, all inside the Face Master.
QF Master provides a new access control method to i-Neighbour that can easily handle the access permission & time for residents towards the specific entrance/exit. Simply, download QF Master into the smartphone and connect it to the BLE-2 that is attached to the entrance/exit door. QF Master will pair up with one i-Neighbour account to validate the visitors' access. Once residents had gotten approval and acquired their QR Code, they can proceed to scan their QR Code via QF Master. The QF Master will then recognize and validate the QR code via Cloud Server. Successful validation will grant visitors entry access for the door by sending a command to the BLE-2 via Bluetooth connection.
1. Select the Scan QR Code or Password in QF Master to obtain door access.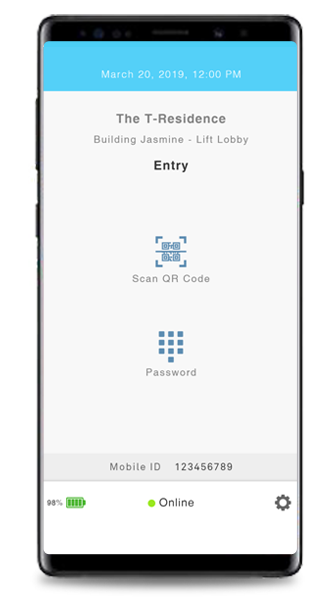 2. After select the Scan QR Code, proceed to scan the QR Code acquired from i-Neighbour.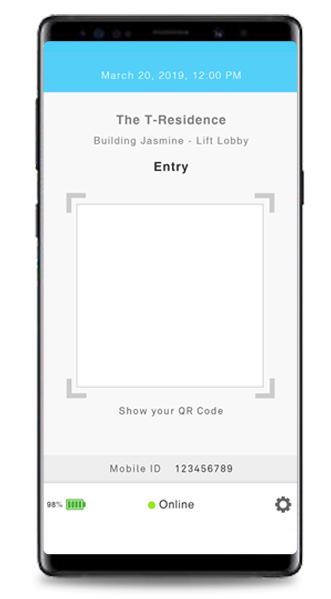 3. The QF Master will validate and confirm your successful validation.