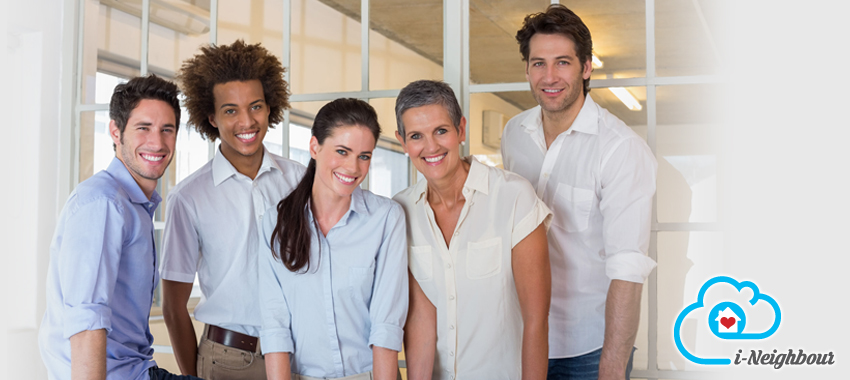 Keep a Clean Visitor List with i-Neighbour
Automated visitor management system (VMS) is designed to manage visitors to a particular premise for security purpose, limiting outside threats into a neighbourhood. VMS is a computerized version of the classic guest sign-in logbooks, which often times pose risks of inaccuracy, delay and lost of important information due to human errors. Realizing the need for a smooth, safe and confidential management system, many neighborhoods are now shifting to automated VMS.

i-Neighbour is one such system where it comes convenient to all parties who are using it. With this solution, users can manage their guests efficiently by scheduling appointments, pre-registering visits, and ensuring only authorized visitors to be allowed access and to have the tool to deter unpleasant visits/visitors into a premise.

Find out 5 reasons i-Neighbour might just be a great idea for your neighborhood.
| | |
| --- | --- |
| | 1. Enhances Security and Ensures You and Your Family Stay Safe and Sound at All Times |
Have some peace of mind knowing that your residential area is well protected. Engage your neighbourhood's appointed security company with i-Neighbour to closely monitor all visitations and, the great thing is, no visitation will take place without your consent. Residents can disapprove visitation requests and they can request to deny any visits by a particular guest before the guard moves to blacklist that guest. All visitors to your residence will be checked for identity by the security guard before access is granted. i-Neighbour requires two phases of filtration for a visit, one is a request through i-Neighbour's website, and second is through a QR code provided to the visitor after the approval has been granted online, to be scanned at the guardhouse.
| | |
| --- | --- |
| | 2. Cut Short the Processing Time |
In many residential areas the visitors are left to wait in long queues to sign-in the traditional guest-tracking logbook. This kind of enrolment procedure is time consuming, highly inaccurate and unfriendly to an extend. With i-Neighbour, your guest will not be kept waiting. Once they have pre-registered via the system and you have authorized it, all they've got to do is to scan the QR code at the guardhouse/lobby and they can proceed with the visitation. Ensure a smooth and friendly visitation experience for your guest without compromising on the security measures.
| | |
| --- | --- |
| | 3. Integrated System for Multi-Role |
i-Neighbour comfortably facilitates multi-role, i.e. unit owner, unit admin, tenant, residence partner & visitor. Each role will have different access rights to their account, owners can rest assured that privacy is always prioritized and protected in i-Neighbour.
| | |
| --- | --- |
| | 4. Simple and User-friendly System |
The system is user friendly and convenient for the management committee, tenants/owners, and visitors. The interface of the solution/app is straightforward and easy to understand and operate.
| | |
| --- | --- |
| | 5. 100% Cloud-based System |
i-Neighbour operates on a 100% cloud based system that makes it conveniently available for users to access the system any time anywhere. Just like accessing most of the social media platforms you will just need the Internet connection and a login ID then you are able to browse the system at your convenience.

Do not compromise on the safety and comfort of your neighborhood; stay protected at all times with i-Neighbour. To understand more about i-Neighbour, tour in www.i-neighbour.com or simply watch the video: