i-Neighbour is going to revolutionize the way modern residential neighbourhoods handle their visitors. The solution taps on the latest cloud technology, mobile application and the power of Internet connectivity to improve today's lifestyle and provide better security for the residents of high-rise condominiums and gated guarded community.
The Liabilities of Visitors
Management of visitors in a residential area, if not systematically managed, potentially could project adverse image to the neighbourhood and it could also pose serious harm to the security of the place and its people. In i-Neighbour, visitors are loosely categorized into seven groups.
| | |
| --- | --- |
| 1. | People who are dear to the residents such as family and relatives. |
| 2. | People who have connections to the residents such as friends and acquitances. |
| 3. | People who provide services to the residents i.e. swimming instructors, tutors and cleaners. |
| 4. | Contractors who have to be at the house for a certain period of time. |
| 5. | People who come for events such as birthdays, get together and weddings. |
| 6. | Delivery such as food delivery, grocery delivery, post courier. |
| 7. | People who come for work matters for people who have home offices. |
By not having a systematic solution to handle visitors in and out of a neighbourhood, the place will be exposed to outside factors that could bring disastrous risks to the neighborhood when cases like robbery, break ins, rape, manslaughter and etc happen. Manual conventional visitor book system is not sophisticated enough to cater to the need of the modern lifestyle living that demands availability of data trail and accountability.
Brings People Together for Security
i-Neighbour is an all-inclusive system that brings everybody (Residential Management, Residents, Security Company and Visitors) together to ensure security of a neighborhood. Once a residential management or a JMB sets up a neighborhood, i-Neighbour is ready to receive visitors easily!

There is a great flexibility in i-Neighbour whereby visitors can preregister visitation online or through the solution's mobile app and get approval from the residents almost instantly. The visitors will get the QR code to be used as express pass to get access at the guardhouse on the visit day, and security personnel can check on the information of visitations available on the system for the day. Vice versa, residents can invite their guests before hand to smoothen the visitation process. In short, i-Neighbour simplifies and secures visitation process through one process, welcoming clean visitors, and deterring bad visitors from a neighbourhood. And in all of this, everyone is responsible for the visitors they bring into the areas.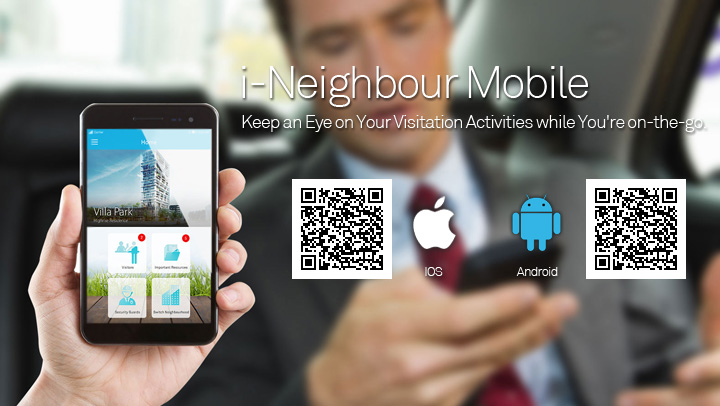 With i-Neighbour, all visitation information is intact in cloud for historical and future references in one centralized system, and accessible by users at all times. For a neighbourhood, the solution provides a great platform to collect the information of your neighborhood effortlessly and sharing of important information and resources with all the residents.

Embrace modern lifestyle with i-Neighbour Visitor Management System and register with us now at www.i-neighbour.com.